Sodomania 1: Tales Of Perversion, Uncut Movie (1992)
Description: Sodomania is dedicated to all of us who hate watching women fuck that don't like fucking! If you like most of what's available in the adult market, you probably won't like this tape. But if you like girls who like getting fucked in the ass, girls who like to lick cum off their toes, and girls who just love to suck, fuck and be watched while they do it -- Then this is the tape for you! It's got gorgeous newcummer CHERI LYNN living out a personal fantasy with the nasty FRANCESCA LE getting slammed in her ass by Randy West while she sucks Cheri's pussy. NICOLE LONDON takes Mr. Tony Tedeschi up her ass and on her face! Then you'll see TIFFANY MYNX, who requested a scene in which she could lick cum off her pretty toes. And last, yet another newcummer ... the adorable BRITTANY, fucking and sucking with the stunning LACEY and Rick Masters. (Wait until you see Brittany guide Rick's cock into Lacey's waiting ass!)
Scene Breakdowns
Scene 1. Cody O'Connor, Francesca Le, Randy West
Scene 2. Nicole London, Tony Tedeschi
Scene 3. Tiffany Mynx, Roscoe Bowltree
Scene 4. Brittany O'Connell, Lacy Rose, Rick Masters
Review:
Tiffany's scene alone makes this tape a winner. She along with Francesca Le are two of the nastiest girls ever to do porn. I would of liked to have seen Tiffany have intercourse, take it up the butt and some more facials, but Tiff and Fran licking up cum was quite hot. Especially Tiffany licking cum off of her foot.

Scene One: Francesca Le, Cheri Lynn and Randy West. Cheri starts playing with her own pussy as Randy talks nasty to her. He then goes down on Cheri to perform oral sex on her. They kiss passionately. He continues eating her pussy. He sucks on one tit and rubs the other. She rubs her clit. He again sucks on her pussy. They screw in the miss. position as Francesca watches and rubs her own pussy and nipple. Francesca strolls over as Cheri is blowing Randy. Francesca tongues Cheri's ear and face as Randy whacks off. Both ladies blow Randy. With Cheri on a bed, Francesca eats her out as Randy sucks on one of Cheri's tits. With both girls in the doggie position, Francesca eats out Cheri as Randy insert a finger into Francesca's asshole. Randy finger fucks Francesca's asshole as Cheri rubs Francesca's pussy. Francesca sits on Cheri's face as Randy fingers Francesca's ass with one hand and rubs Cheri's pussy with his other hand. Randy and Cheri fuck in the miss. position as Francesca sits over Cheri's face and rubs Cheri's clit. Randy pulls out so Francesca can give him some head. Randy fucks Francesca from behind. Cheri blows Randy as Francesca eats Cheri out. Randy fucks Cheri missionary as Francesca sits by Cheri's face. Randy sodomizes Francesca in the doggie position with Cheri's face underneath licking Francesca's pussy. Randy pulls out and cums on Cheri's tits. Francesca licks the cum on Cheri's tits and licks the head of Randy's cock.
Kiss masterbates on a couch for about a minute.

Scene Two: Nicole London and Tony Tedeschi. Tony finger fucks both Nicole's asshole and pussy from behind. She turns around so he can eat out her pussy. She gets on her knees to blow him, briefly licking his balls. He tongues her asshole before inserting a few fingers into her pussy. They screw on a table doggie style, then missionary. In the cowgirl position, they have anal sex as she rubs her pussy. Next is anal sex with her shoulders to the floor and legs in the air. Tony pulls out and cums, most of which lands by her open asshole. A stream of cum hits her forehead, Tony uses his fingers to wipe up some and put in in her mouth.
Kiss uses a vibrator on her pussy, again for about a minute.
Scene Three: Tiffany Mynx and Roscoe Bowltree.
Tiffany paints her toe nails red. She seductively removes the cotton from in between her toes. She struts her sexy body in front of Roscoe. He caresses her feet. Her feet rub his cock over his pants. She licks his groin over his pants. She takes out his cock and licks and sucks it. With her white panties pushed to the side, he eats her pussy. Then smacks and rubs her ass cheeks. He inserts a finger in her pussy as he spanks her ass cheeks. Briefly, he rubs her pussy as she licks his cock. They go on a bed and he sucks on her toes as she plays with her pussy. He licks toes on both feet. He jerks off before he apply's his cock to her pussy lips from behind her. They kiss before she again blows him. He jerks off as she licks his balls. He stands and jerks off by her, raised, feet. He cums on both her feet. He uses the head of his cock to wipe the cum over her feet. She brings her feet up to her mouth and licks some of the cum off.

Kiss is fucking her pussy using a black dildo while also using a vibrator on her clit.

Scene Four: Brittany (O'Connell), Lacey Rose and Rick Masters. Brittany, in a bathtub, rubs soap over her body. She sits back in the tub and starts rubbing her body softly. She fingers and rubs her pussy before letting the water from the shower head come down on her pussy. On a bed, Lacey puts on Black stockings for Brittany. Lacey removes her panties then puts on another pair before putting on high heel shoes and a sexy dress for Brittany. The dress and panties quickly come off. Brittany sucks on Lacey's pussy. Brittany turns Lacey over on her knees so she can use her hand on Lacey's pussy from behind her. She calls Lacey a whore during this scene. Brittany removes her fingers from Lacey's pussy and lets Lacey lick them. Rick appears and gets blown by Brittany as Lacey films it. Rick fucks Brittany doggie style as Brittany talks nasty. Then reverse cowgirl and cowgirl as Lacey continues filming. As Lacey eats out Brittany,Rick fucks Lacey doggie style. Brittany fingers Lacey's asshole as Lacey rubs her own pussy. Rick and Lacey have anal sex on their sides. With the ladies in a 69 position, Rick continues to have anal sex with Lacey. Rick pulls out and cums on Brittany's face and neck.
Kiss is still using the dildo and vibrator on her pussy. She sucks and licks the dildo.
Overview
Click on a screenshot below to rewind the video to that location. Click on "Overview" to show or hide this section.
Studio: Elegant Angel Productions Released: 1992 Director: Patrick Collins Country: Usa Language: English
Categories: Redhead Masturbation Cunnilingus Big Tits MILF Big Ass Threesome Cumshot Add
Tags: Bra Girlfriend Hottie Dicked Down Smoking Street Panties Fuck Observe Doggystyle Lesbian Pussy Licking Add
Models: Cody O'Connor Francesca Le Nicole London Tiffany Mynx Brittany O'Connell Lacy Rose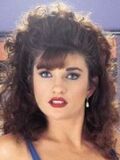 Randy West Tony Tedeschi Roscoe Bowltree Rick Masters Add