Tyger Tales, Uncensored (1986)
Description: Confined to their quarters, these horny military guys find sexual outlets to pass the time. But the the seargent intrudes an whips out his massive meat only to become a big pain in the ass. Non-stop sex were pent up beefy guys realize their only need, big hard cocks!

Scene Breakdowns
Scene 1. Chad Douglas, Pierce Daniels
Scene 2. Cole Carpenter, Michael Ram
Scene 3. Dan Lundgren, Scott Avery
Scene 4. Billy Bonner, Jon King, Paul Sanders
Scene 5. Geoffrey Spears, Steve Wright
Scene 6. Steve Wright

Review
One of the practices these days is for producers to dig up an old VHS from the pre-condom days, dust it off, and put it on DVD. Some of these are fabulous gems. Others are rhinestones. Still others are rocks that would have been best forgotten. This one belongs in the second category. There are some legendary performers here. Some others are fantasies in flesh. But the sex is by the numbers and the whole thing rather lukewarm.

Our host for the proceedings is Steve Wright, a hunky performer who appeared in way too few flicks. (Check out the back cover of the DVD. That's Steve. Humpy, huh?) Naked on the bed, Steve strokes his hefty dick as he tells us about the goings on in his apartment building.

Pierce Daniels, whose bushy mustache made him seem somewhat weasel-like, spies Chad Douglas (another mustachioed slab of beef) coming up the outside stairs. (That's Chad on the front cover, smiling. Something I never saw him do in any film. In them, he was always as glum as Boris Karloff on a bad day.) Pierce is wearing only a bathrobe and he flashes the newcomer. Soon they are in Pierce's apartment and going at it. Chad is strictly trade as he lets Pierce blow him and bottom for him. The scene generates no heat whatsoever, making it a rather inauspicious opener.

Steve now tells us that everyone has been ogling Cole Carpenter but only one guy finally had him. That lucky guy was Michael Ram, a B-grade brunet performer who appeared in many of these early productions. Cole was a buff blond with a cleft chin and looked a bit like Cary Grant in profile. He makes Michael wear a condom to fuck him, but plows into Michael bareback. ("You have to wear a condom," Cole orders him. Very unusual for films of this era.) The scene with its flip-flop fuck is better than scene one, but still nothing to send the peter meter into the red.

This changes with the next scene, which is the film's highlight. Steve tells us that cute Dan Lundgren has been sunbathing in tight Speedos and driving one of the tenants mad with desire. Dan is neither skinny, nor is he muscular, but just has a nice smooth youthful build. The tenant who has the hots for him is little blond Scott Avery. Scott is one of my favorite twinks from this era. A thin natural blond with a tattoo that looks like a leaf of kale on his right abdomen, Scott had a nice uncut dick and an air of innocence that made his performances a delight. Even as the aggressor here, he still manages to convey a youthful naïve exuberance. When Dan comes in from his sunbathing and gets in the shower, Scott lets himself into Dan's apartment, makes a beeline for the bathroom, and goes down on Dan's dick. They take it to the bedroom where they have such a wonderful time that Steve tells us that afterward they decided to move in together.

The next scene is a three-way featuring the young legendary Jon King along with brunet Billy Bonner and an adorable slender blond, Paul Sanders. Paul reminds me of one of my former lovers so this scene gets to me. Billy inserts his big dick into Jon's bum as Jon is fucking my boy. (sob)

Finally, Steve, who has been rubbing his monster throughout, now telephones young Justin Rhodes to come over and take care of it. Justin, a tousled-headed young blond is kinda cute here. Later when he changed his name to Geoffrey Spears he was somewhat gawky and not very interesting. He sucks Steve's big one, they 69 a bit, and then it's bottoms up for Justin/Geoffrey.

It's an Ok film. Not a classic by any stretch of the imagination. But it's your only chance to see Dan Lundgren and Paul Sanders, and that's something.
Overview
Click on a screenshot below to rewind the video to that location. Click on "Overview" to show or hide this section.
Studio: Sierra Pacific Released: 1986 Director: Ronnie Shark Country: USA Language: English
Categories: Full Movie Add
Tags: Gay Kissing Gay Blowjob Bear Gay Anal AVN awards Army Big White Cock VHS Add
Models: Billy Bonner Chad Douglas Cole Carpenter Dan Lundgren Jon King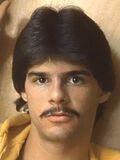 Justin Rhodes Michael Ram Paul Sanders Pierce Daniels Scott Avery Steve Wright Add