Beyond Taboo, Uncut Movie (1984)
Description: As a buxom mother enjoys her son and pleasures her brother, the chauffeur helps the buxom daughter, who then seduces her father.
Scene Breakdowns
Scene 1. Yoko Wong, Dan T. Mann
Scene 2. Lili Marlene, Blair Harris
Scene 3. Helga Sven, Yoko Wong, Dan T. Mann
Scene 4. Desiree Lane, Jon Martin
Scene 5. Helga Sven, Kirk Wilder
Scene 6. Lili Marlene, Jon Martin
Scene 7. Helga Sven, Dan T. Mann
Scene 8. Yoko Wong, Kirk Wilder
Scene 9. Helga Sven, Lili Marlene, Yoko Wong, Dan T. Mann, Jon Martin, Kirk Wilder
Review:
Due to the ongoing success of Kirdy Stevens' "Taboo" movies, other pornographers have sought to exploit incest content, resulting in this almost comical exaggeration starring Helga Sven as a most-freewheeling mama.
So we get siblings humping, intergenerational incest and even cousins going at it. The contrivances are weak, with director Charles De Santos merely piling on and then cross-cutting between ongoing sex scenes.
A prime example of running something into the ground.
Overview
Click on a screenshot below to rewind the video to that location. Click on "Overview" to show or hide this section.
Studio: Golden Age Media Released: 1984 Director: Carlos DeSantos Country: Usa Language: Ehglish
Categories: Full Movie Mature Big Tits Blowjob Blonde Cunnilingus Stockings Brunette Add
Tags: Sensual Blowjob Housewife Neighbor Cum On Body Beginners Nice Tits Scenario Bathroom Tanned Panties Fuck Add
Models: Desiree Lane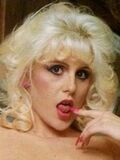 Helga Sven Lili Marlene Yoko Wong Jon Martin Kirk Wilder Dan T. Mann Add